HOW TO DEFINE/REDEFINE YOUR BRAND IDENTITY?
Just like every human being, your business also needs a unique identity to serve and survive in the competitive market. When we talk about business, obviously we all want our business to become a well known brand. Through the first step of developing a strong Brand Identity.
But, exactly what is the brand identity? What does it have to do with branding? Why is it important for every business? 
What can we say about brand identity?
Your business objective and the way it communicates its products and services, creates the brand identity. It is what the brand stands for, and how it is conveyed visually through images and design, and what the brand wants people to experience when using its products. For the branding process, a brand identity is essentially the look and nature of your company.
There are several reasons why a brand identity is necessary. Everything your customers will see, from the logo on your company's social media profiles to the product description text on your e-commerce website, will be based on this theme for your marketing materials. Building trust is facilitated by a clearly defined brand identity that is consistent with the company's values.
Online firms who don't have physical components to reflect their brands need to have a strong brand identity more than any other type of business. Also, effective branding requires effort and patience.
Let's look at how you may define or redefine your brand identity in just four easy steps.
1. Take a look at your current brand identity
All good initiatives begin with prior research. Therefore, you must consider how well your current brand identity is performing before pulling out the color wheel or starting from scratch. What is required for change? How can we improve its effectiveness?
Have a thorough knowledge of your issue before you begin. Always keep in mind that brand identity is all about bridging the gap between your business and your customer.
2. Know about your brand and determine what you stand for
You must therefore understand your target market and your competitors in order to develop a strong brand identity. But you'll also need to have a clear understanding of who you are.
The mission, vision, and values of your company can succinctly explain this. Try to communicate these with your customer to understand your brand value better.
With a thorough grasp of what you dislike about your present brand, you may steer your brand in a fresh, exciting direction while avoiding the pitfalls of the past if you already have a brand identity that you want to modify.
Also, what message are you trying to convey with your branding activities, all these affect the brand identity.
3. Look up your competitors and get new inspiration
To outperform your competitors, you need to do more than just be aware of them. Determine how you can differentiate your brand from theirs by examining what they're doing, how they're doing it, and what their brand identity looks like.
Understanding your competitors' flaws through competitor analysis might help you turn those weaknesses into strengths that will help your brand succeed. You may strengthen and clarify your own brand identity by conducting a competitor study.
To create a strong brand identity, competitor research is essential. So, to ensure you're a step ahead of the competition, define your brand identity in a way that is truly exceptional.
4. Start working on developing a perfect brand identity
An effective brand identity takes time to develop. In order to create an identity that accurately represents your company and can support you as you expand, you must approach design carefully. 
On a deep thought, a team like Brand Buzz with great design and communication abilities, and a thorough grasp of who you are, what you do, and how you want to portray your brand to the world are all required for this.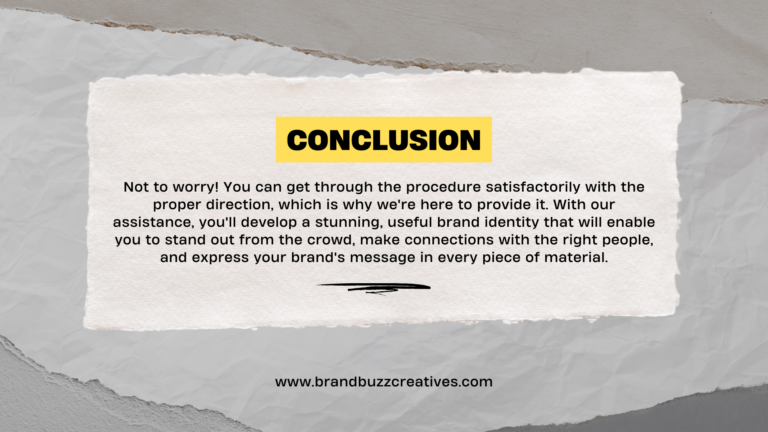 Not to worry!  You can get through the procedure satisfactorily with the proper direction, which is why we're here to provide it. With our assistance, you'll develop a stunning, useful brand identity that will enable you to stand out from the crowd, make connections with the right people, and express your brand's message in every piece of material.
Let's get started. Call us right away.
info@brandbuzzcreatives.com